Mixtapes
Dj Preppy – Move A Leg Mixtape Vol 2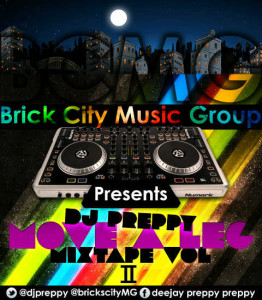 Dj preppy (Nay Effiong ) is an energetic and talented young deejay , who has been Djing  since his talent was spotted at age 14.
With a vast knowledge of music he is always remembered for keeping people on the dance floor, coined the "preppy kid" and the official CalabarFG, General Electric Seal $1bn Calabar Assembly Plant Deal. Read more ... » carnival Dj 2013. Dj preppy  has stunned the crowed at quite a few high profile shows and events like The Mtn project fame all stars, Tinapa Bikini Splash and of cause the memorable Calabar festival he has also played for many top NigerianZiggysas - Selena. Read more ... » acts like Wizkid, IyanyaBayoz Muzik - My Lane Feat. Iyanya | Emma Nyra. Read more ... », Naeto CNaeto C's "Tony Montana" Promo Tour. Read more ... » and lots more .
Currently managed by Bricks city music Group, His "Move A leg vol .2" is his gift to all his fans for all their support , Young Dj Preppy is one dj to watch, contact info TWITTER50Cent Tweets At Nigerian Female Rapper Lil Miss Miss. Read more ... » @djpreppy, @brickscityMG  Email:Brickscitymusicgroup@email.com
u DON't Believe me, TAKE A LOOK AT THE LINK BELLOW. Watch the young one  do his thing.
[embedplusvideo height="420″ width="450″ editlink="http://bit.ly/18mDq88″ standard="http://www.youtube.com/v/am7HUFiD7aE?fs=1&hd=1″ vars="ytid=am7HUFiD7aE&width=450&height=420&start=&stop=&rs=w&hd=1&autoplay=0&react=0&chapters=&notes=" id="ep9933″ /]
MMB
July 18th, 2013
No comments