Salma Sky – Non-stop Feat. Cactus Agony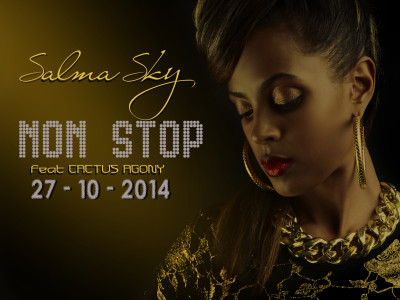 "Non Stop is Salma Sky's first single from her highly anticipated album which is set for release in December and features Zambia's Dancehall and Reggae Maestro Cactus Agony.
Non Stop is an edgy refined Zambian sound with elements of Dancehall serenaded with Salma's smooth sweet vocals making it relevant to the Zambian consumer yet retaining an international appeal. The song talks about an appreciation of a quality love expressed in a "Nonstop"fashion and is produced by renowned music producer Tivo Shikapwashya.
Following the continental success of her last single "Ruby Ruby" Salma's new offering promises more exciting music from the Zambian singing sensation.
Salma Sky is represented in Nigeria by veteran dj, Mixmasterbrown. Who's popular for working with Psquare, Ruggedman, Terry Tha Rapman, Mode9 etc back in the day."
File
Salma Sky feat Cactus – Non Stop (Prod. TiVo).mp3
jQuery(function($) {
var a = audiojs.createAll({ trackEnded: function() { var next = $('ol#playlist-2268 li.playing').next(); if (!next.length) next = $('ol li').first(); next.addClass('playing').siblings().removeClass('playing'); audio.load($('a', next).attr('data-src')); audio.play(); } });
var audio = a[0]; first = $('ol#playlist-2268 a').attr('data-src'); $('ol#playlist-2268 li').first().addClass('playing'); audio.load(first);
$('ol#playlist-2268 li').click(function(e) { e.preventDefault(); $(this).addClass('playing').siblings().removeClass('playing'); audio.load($('a', this).attr('data-src')); audio.play(); });
$(document).keydown(function(e) { var unicode = e.charCode ? e.charCode : e.keyCode;
if (unicode == 39) { var next = $('li.playing').next(); if (!next.length) next = $('ol li').first(); next.click();
} else if (unicode == 37) { var prev = $('li.playing').prev(); if (!prev.length) prev = $('ol li').last(); prev.click();
} else if (unicode == 32) { audio.playPause(); } }) });
---
---