Mixtape: Pain And Pleasure By KingOla
Happy Valentine's Day Ladies & Gentlemen!
To bring in this sappy love season, King Ola returns with the 2 year late sequal to the reggae/dancehall sextape, Rain & Pleasure. Pain & Pleasure is a Soothing blend of the latest reggae & dancehall music. Remember, stay protected.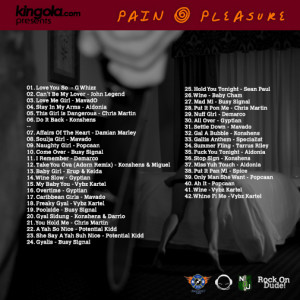 Tracklist
——-
01. Love You So  – G Whizz
02. Can't Be My Lover – John Legend
03. Love Me Girl – Mavado
04. Stay In My Arms – Aidonia
05. This Girl is Dangerous – Chris Martin
06. Do It Back – Konshens
—
07. Affairs Of The Heart – Damian Marley
08. Soulja Girl – Mavado
09. Naughty Girl – Popcaan
10. Come Over – Busy Signal
11. I Remember – Demarco
12. Take You Ova (Adorn Remix) – Konshens & Miguel
13. Baby Girl – Erup & Keida
14. Wine Slow – Gyptian
15. My Baby You – Vybz Kartel
16. Overtime – Gyptian
17. Caribbean Girls – Mavado
18. Freaky Gyal – Vybz Kartel
19. Poolside – Busy Signal
20. Gyal Sidung – Konshens & Darrio
21. You Hold Me – Chris Martin
22. A Yah So Nice – Potential Kidd
23. She Say A Yah Suh Nice – Potential Kidd
24. Gyalis – Busy Signal
25. Hold You Tonight – Sean Paul
26. Wine – Baby Cham
27. Mad Mi – Busy Signal
28. Put It Pon Me – Chris Martin
29. Nuff Girl – Demarco
30. All Over – Gyptian
31. Settle Down – Mavado
32. Gal A Bubble – Konshens
33. Gallis Anthem – Specialist
34. Summer Fling – Tarrus Riley
35. Fuck You Tonight – Aidonia
36. Stop Sign – Konshens
37. Miss Yuh Touch – Aidonia
38. Put It Pan Mi – Spice
39. Only Man She Want – Popcaan
40. Ah It – Popcaan
41. Wine – Vybz Kartel
42. Whine Fi Me – Vybz Kartel
---
---